Mike Duran posted a blog entry in which he interviewed someone named "Coach" Culbertson who puts out a literary magazine, Coach's Midnight Diner. Here's an excerpt in which Pacione's name comes up in the context of Gothicfest 2007.
Decompose » INsites: Coach CulbertsonA well-known Christian suspense author called the Jesus Vs. Cthulhu concept "brilliant," and a crazy small press horror editor, Nickolaus Pacione of Lake Fossil Press, has expressed massive delight at its intensity and authentic horror.
Crazy indeed.
The interview was accompanied by this lovely photo of Mr. Pacione himself, in his glorious White Sox cap. Nicky is giving his cheesiest grin while holding a copy of Coach's magazine.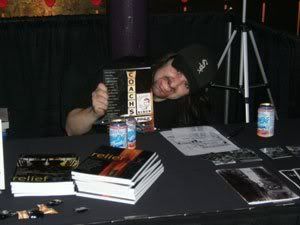 For the record, I have no idea who either Mike Duran or Coach Culbertson are. This merely showed up in my inbox as a Google alert.
Powered by ScribeFire.