His name is Azule, so we're going to call him Ozzie.  He's 10+ years old, and such a sweetheart.  When you take in an older cat, you know exactly what you're getting, personality-wise.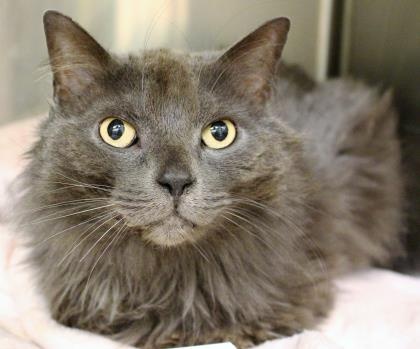 He's our third cat.  Our dog will get along fine with him, as will our longhair dilute tortie girl.  I'm not sure about our black shorthair cat, but Ozzie is fully armed, if it comes to that.
Because he's an old fart, we got him for $25, and the shelter even threw in a 7lb. bag of dry food, and some large (12″ x 18″) weird maze-like cat toy that I think I'm supposed to weave yarn around, and hide cat treats in it.  It's not intuitive.  The cat, however, is extremely intuitive.  He just needs to stay in the one bedroom in the annex by himself with food, water, and a litter box, until he's ready to meet our other critters.  When he's ready, he'll let us know.
This boy is the best birthday present I ever got that I paid for myself.  Of course I will continue to pay for his vet care.  Those bills have always been mine.  So what?
I think I only need another eight cats before I turn into one of those crazy old cat ladies.  *sigh*