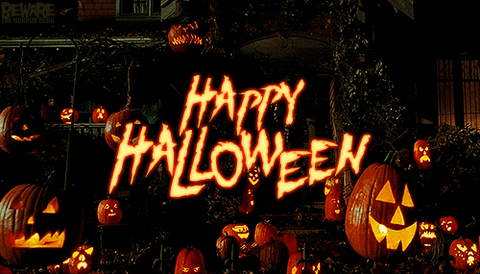 We've got our pumpkins out.  They're a combination of heirloom sugar pumpkins, and sugar pumpkin/zucchini hybrids that we grew in our garden this summer.  The latter mature to orange, and look like tall, skinny pumpkins, with yellow-y orange flesh, sort of like acorn squash.  I didn't decorate them, because I intend to roast and process them for pies, custard, and soup over the holidays.  The mash freezes really well until we need it.
It's kind of a shame we never get kids trick-or-treating.  The houses are too far apart, there are no sidewalks, and there aren't many kids around, anyway.  OTOH, if I want Halloween candy, I can buy it tomorrow for half price.
Even though we won't be getting any kids stopping by, I also dug out a couple of unglazed ceramic pumpkins I had in the basement.  They can take votive candles, but it's easier to toss in battery operated LED versions.  That way, I don't have to carve out any melted and re-solidified wax later.  It's rainy, so those will stay indoors.  They're fun, anyway.
Have a spooky day!